James Boully registered as a pharmacist 13th June 1877 (Certificate No. 178, In business in Victoria before 1st October 1876)
Address on the Pharmaceutical register – Albert Park (later editions mention Bridport Street) 1898-1925, 26 King Street, East Malvern 1926-1938.
The Melbourne Argus 15th March 1877: Marriage. Boully-Simpson – On the14th inst., at the residence fo the bride, Golden-square, by the Rev. J. King, James Boully to Fanny Simpson, both of Sandhurst.
The Melbourne Argus 19th June 1883: Death from Poison. In part mentions that Mr Boully had taken over from Mr Garsed "about 10 years ago" and that Garsed had in turn "resumed business a few weeks ago". Meaning Boully ran the Sandhurst shop from around 1873/4 – 1883

---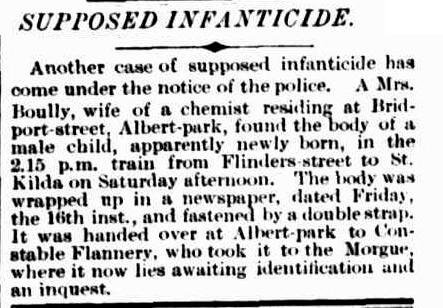 The Melbourne Argus June 3rd 1911: Boully-Treloar marriage
On the 19thApril at the residence of the bride's parents, by the Rev. Archdeacon Samwell, Harry, eldest son of Mr & Mrs. J. Boully, Albert-park, Victoria to Florence, eldest daughter of Mr. & Mrs. Arthur Treloar, Quinina Station, Mannahill, South Australia. Present address Kolendo Station, via Port Augusta, South Australia.
Leslie Boully (son) was killed in action in Belgium in 1917 winning a Distinguished Conduct Medal: Leslie Boully on AIF website
The Melbourne Argus August 29th 1928: Boully
On the 24thAugust at King street, Gleniris, Fanny, dearly loved wife of James Boully late of Albert Park and Bendigo and mother of Harry (Port Augusta), Maie, Alice, Daisy (Mrs. N. C. Crozier), and Leslie (killed in action), aged 70 years.
The Melbourne Argus 25th April 1939: Man, 92, Missing
Mr. J. Boully aged 92 years has been reported as missing from Belgrave since Friday. He is said to have left Belgrave by the railway bus for Melbourne at 2 o'clock wearing a fawn gabardine coat and felt hat, and carrying a walking-stick and kitbag or attache-case. Mr Boully is about 5ft. 7in. in height. He has a clipped grey beard, and is very deaf, His daughter owns the Red Mill Kiosk in Belgrave, and she would be pleased to know his whereabouts.
The Melbourne Argus 27th April 1939: Missing man found
Mr. J. Boully aged 92 years of Belgrave who had been missing from his home since last Friday was found at Brighton Beach yesterday.
The Melbourne Argus 29th December 1939
Mr. James Boully who was well-known in the pharmaceutical profession in Victoria, died at a private hospital in Kew yesterday. For more than 50 years he was a chemist at Albert Park. He retired several years ago and had been living at Belgrave. He was aged 92 years. The funeral which will take place this morning will be at the Springvale Cemetery. Arrangements are being made by A. W. Padbury and Co.