c1919-1924
This brief history starts out with the second incarnation of a company called the Pure Water Process Pty. Ltd., other than the name there is currently no definite link to the first business, based in South Yarra.
In this case the Pure Water Process Pty. Ltd., was registered in September 1919 with an office in Collins Street, Melbourne. In July 1920 this company registers the name Egypta and shortly afterwards a new company is formed known as Egypta Products Pty. Ltd. This new business shared the Collins Street office address and the factory was located at 294 Nicholson Street, Fitzroy.
Through the next few years a number of trade marks are registered and there is a small amount of advertising in the Argus. But in August 1924 the major backer of the company had apparently had enough and the assets liquidated at a major clearing sale. Judging by the enormous number of bottles and stock listed this company had pretentions far greater than the business ever realised.
Despite the number of bottles mentioned most remain quite difficult to get with only the Ginger Beer bottles bordering on common, and even then really good condition ones are hard to find. While on the topic of Ginger Beers note that there are two basic types: One made by Bendigo Pottery and the other by Fowlers. The Bendigo Pottery records show that Egypta ordered 200 gross of ginger beer bottles during 1920/1 in three different orders. The sale advertisement mentions 250 gross of ginger beer bottles meaning that at least 50 gross of bottles had to have been ordered from Fowlers and probably significantly more given loss and breakage over the preceding three years.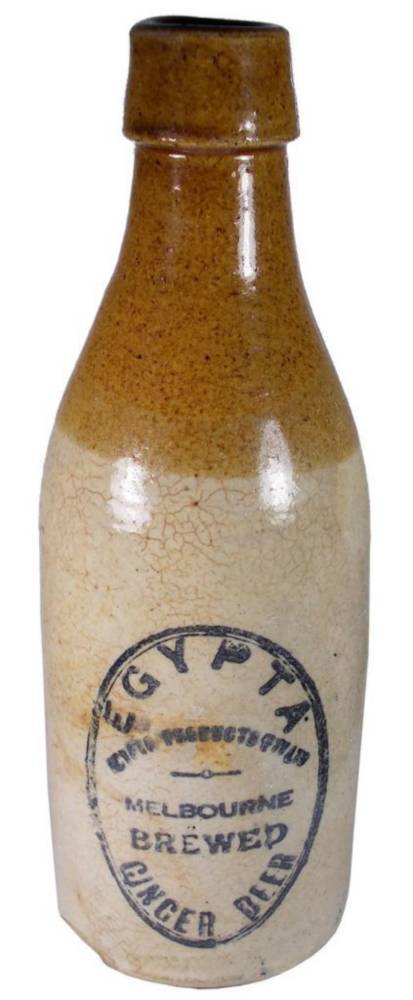 EGYPTA DRINKS High-Grade, Non-Intoxicating Beers, Cordials, and Aerated Waters. Egypta flavours are blends of the finest quality fruit juices, representing the result of long experience in manufacturing, and contain just those additions which make them better than others – more refreshing, more satisfying! Produced and Manufactured by EGYPTA PRODUCTS PTY. LTD., 'Phone: Central 11442. ——– 294 NICHOLSON ST., FITZROY.

Display Advertising. (1920, December 22). The Argus(Melbourne, Vic. : 1848 – 1957), p. 8.
Retrieved April 13, 2015, from https://nla.gov.au/nla.news-article4564686
WEDNESDAY AND THURSDAY,
AUGUST 20 and 21
At Eleven O'clock Each Day. On the Premises,
294 NICHOLSON STREET,
FITZROY.
DEBENTURE HOLDERS' REALISATION SALE.
EGYPTA PRODUCTS PROPRIETARY LIMITED,
AERATED WATER MANUFACTURERS.
To be Sold in Lots Under Instructions from
MESSRS. DAVEY, GARCIA, and Co.,
PUBLIC ACCOUNTANTS,
450 Collins Street, Melbourne.
MACHINERY, STOCK, AND PLANT, MACHINERY, STOCK, AND PLANT,ROLLING STOCK, CORKS, ESSENCES, FITTINGS, SUNDRIES,
Comprising
THE GOODWILL OF THE BUSINESS AND LEASE
OF THE PREMISES (as a Separate Lot); Generator, Gasometer, Pumps, Cylinders, 8- Head Rotary Filler,
Corking Machines, Crown Sealer Machines, 16-Head Rotary Filler, Com- bined Filler Cylinder and Pumps,
Ferguson Turnover Rack, 10-h.p. Electric Motor, Starter, and Accessories; 5-h.p. Petrol Engine (Used Only Once),
Syphon Filler, Cylinder and Pumps, Syrupers, and Tubs, Brushing Machines, Shaft-ing, Pulleys, and Belting,
Chip Heater. 3 G.I. Tanks (Each 600 Gallons), 2 Pinnacle Filters with Duplicate Sets of Candles,
Earthenware Syrup Jars, Syrup Casks, Quantity Barrels, Hosing, Buckets, Funnels, taps, Scales, &c.;
3000 Gross 24 oz. (C.C. and Screws), 600 Gross 12oz. (C.C. and Codd), 400 Gross (C.C. and Codd), 250 Gross Stone Ginger,
85 Gross Black Quarts, 120 Gross Cordials, 1050lb. Sugar, 560 Gross Crown Seals, Quantity Unbranded Bottles,
224lb. Tartaric Acid, 212lb. Citric Acid, 112lb. Cochin Ginger, 5 Bags New Screw Stoppers, Sac- charine, Malt,
Orange Peel, Colour Powder, Juices, 12 Jars Sulphuric Acid, 1cwt. Bicarbo-nate Soda, Essences and Oils of Every Description,
Aerated Waters, and Cordials, Trade Marks No. 27671 "Egypta," No. 27566 "Saora," No. 21049 "E.P.,"
No. 24083 "Orange Squeeze," About 750,000 Assorted Labels, Office Sundries, Stationery, Invoice and Drivers' Books, &c.,
Sample Cases, Desks, &c., Office Table, Type-writer, and All Accessories Pertaining to the Business of a Cordial Manufacturer.
N. B. – Nearly all the Machinery, Plant, &c., Has Been Purchased NEW Within the Last Four Years.
ROLLING STOCK.
13 HORSES, 3 DOUBLE WAGGONS, SINGLE WAGGON, 3 DOUBLE LORRIES, 7 SETS DOUBLE HARNESS, 2 SETS SINGLE HARNESS, ODD HARNESS,
HORSE RUGS, HALTERS, LORRY COVERS, STABLE UTENSILS, &c.
Also, on a Separate Account, 1½-2 TON "BROCKWAY" MOTOR-TRUCK, ALMOST NEW, AND COST OVER £700. N.B. – All the Lorries Were Specially Built to Design Within the Past Two Years.
Our Mr. H. D. WESTLEY is the Recognised EXPERT AUCTIONEER for the Sale of Brewery and Aerated Water Manufacturers' Machinery,
Stock, and Plant, and for Many Years has Conducted All the Largest Sales All Over Victoria.
To be SOLD by AUCTION by
H. D. Westley, Freeman & Co.,
General Auctioneers,
Aerated Water, Brewery, Machinery Merchandise,
and Hardware Expert Salesmen,
1 Queen Street, Melbourne, and Hawthorn.
Descriptive Catalogues Now Ready. If You Want One, Let Us Know.

Classified Advertising. (1924, August 9). The Argus (Melbourne, Vic. : 1848 – 1957), p. 2.
Retrieved April 13, 2015, from https://nla.gov.au/nla.news-article4195119