c1870s-1896

Thomas Wilson had apparently been in business at various places around Victoria as a cordial maker between the 1850s and 1870s. By the early 1870s however he settled in Collingwood and soon set up the Town Hall Aerated Water & Cordial Factory in Islington Street.
Wilson's business was successful and continued after his death in 1884 with with his wife and son continuing under the name T. Wilson. The bottles known today (Torpedos, Lamonts and Soda Syphons) appear to date from the later period of this company (and despite being mentioned in the first clearing sale no stoneware bottles marked Wilson, Collingwood are yet known to collectors). Indeed the business went through an expansion in 1889 and they advertised continuously in the local Mercury & Weekly Courier between March 1889 and July 1896.
There were sales or attempted sales of equipment and the factory in 1894 and again in 1896. Eventually after declaring bankruptcy the factory was taken over in July 1896 by the Frankston Springs Co (Late Goulburn Valley Co) who immediately took over Wilson's old advertisement space in the local paper.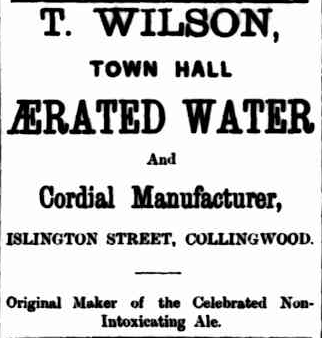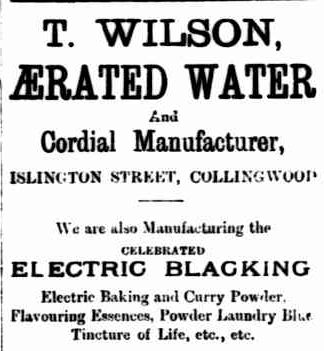 THIS DAY
At Eleven O'Clock. On the Premises, Islington-street,
COLLINGWOOD.
In the Assigned Estate of Messrs. T Wilson and Co,
Aerated Water and Cordial Manufacturers
By Order of the Trustees,
IMPORTANT and UNRESERVED SALE
Of
One of the Most Complete
WORKING PLANTS, MACHINERY, ROLLING
STOCK and MANUFACTURED STOCK
To Town and Country Manufacturers, Machinery
Buyers, Merchants, Carriers, and Others.
MESSRS. PLEASANCE, MARTIN, and GRAHAM
have received instructions from the trustees to SELL by AUCTION, this day, at eleven o'clock.
The whole of the Splendid Machinery and Plant,
Comprising
New M'Donald patent corking rack, new wiring machine, "Tangye" steam boiler, gasometer and generator , steam boiling pans, extra tubs and rinsers, fitted with brush heads; syphon fillers, grinding-mills; tanks, vats, and syrup casks; very large quantity of patent syphons; patent bottles, sodas, and stone bottles; first class baskets, boxes, taps, corks, trucks, wire, labels, wrappers, essential oils and flavouring essences, 53 tins cod oil
Manufactured stock of cordials, vinegar, sauces essences, blacking, curry powder, knife polish, seidlitz powders, blue, extract soap, &c.
Also,
Seven really first-class delivery waggons, large
covered American waggon, two travellers' covered buggies, 15 splendid medium and light draught horses, single and double harness, and large lot of useful sundries.
The auctioneers specially call the attention of the trade to this important sale, as the whole of the stock and plant are in perfect order, and are for absolute sale to close the estate
Catalogues and further particulars from auctioneers, 28-30 Elizabeth-street.

Advertising. (1894, January 10). The Argus (Melbourne, Vic. : 1848 – 1957), p. 2.
Retrieved April 15, 2015, from https://nla.gov.au/nla.news-article8723099